TWO-STEPPING COUNTRY MUSIC LACED WITH NOSTALGIA SWEEPS FANS AND CRITICS
"If you had to explain what country music was to someone who didn't know, then the easiest thing to do would be to play them any one of the 13 songs off Jake Worthington's self-titled debut album." – Holler.
"From the very first moments, it is stunning and can stand as a testament that all hope is not lost while there are artists like Jake Worthington around." – Country Music People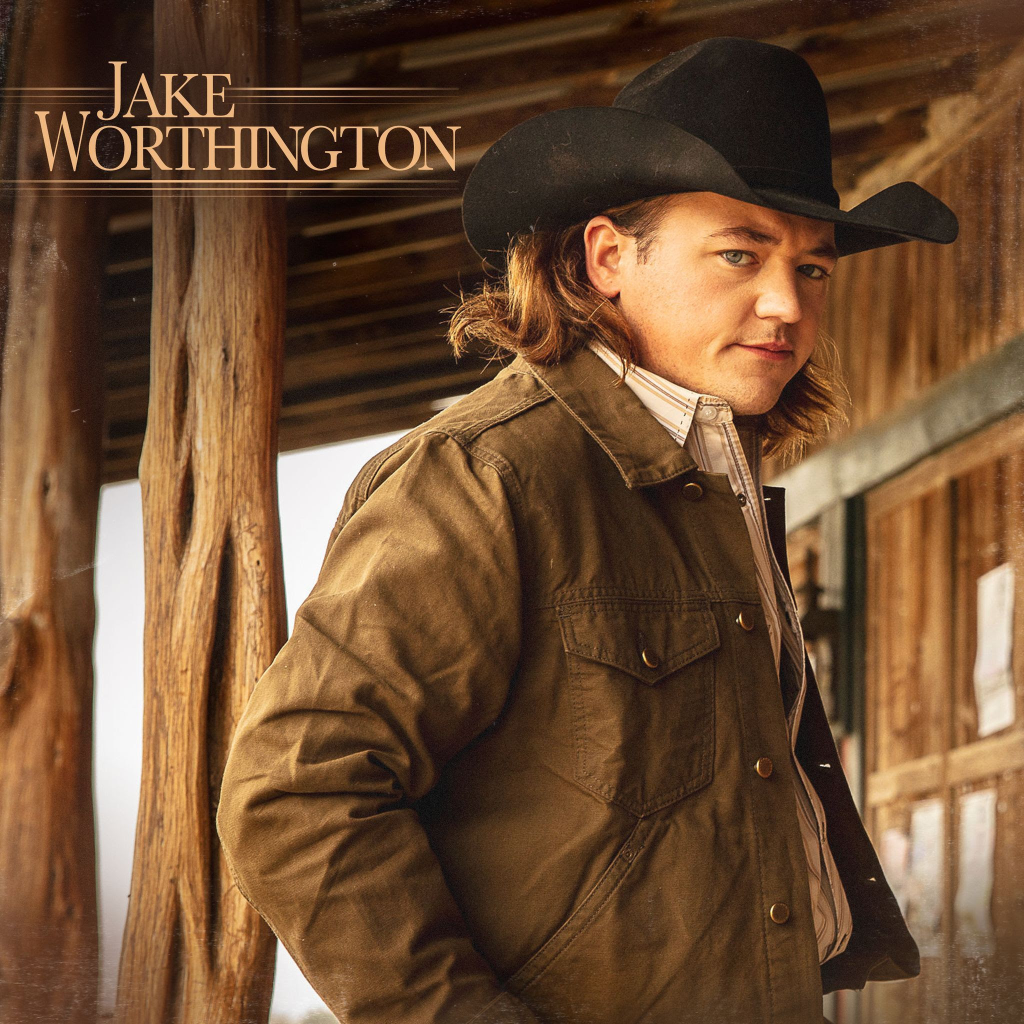 Jake Worthington Album Art | Courtesy of Big Loud Records | Download Here
NASHVILLE, TENN. – For La Porte, Texas native Jake Worthington, country music is the fundamental thread that's sewn together the fabric of his life. The traditional stylings of greats like George Jones, Keith Whitley, and Merle Haggard narrated his rural upbringing and formed the soundtrack of his youth, from the songs on the radio, to his late grandfather's front porch performances at holiday gatherings.
But more than just the nostalgic sonic influence that permeates Worthington's own music, country is a lifestyle and value system that makes the rising star who he is. Taking that familiarity with the genre's classic roots and traditions and infusing fresh blood into country's still beating heart today, his debut 13-track album Jake Worthington is available now.
"I've been ready for this for a long time," Worthington says. "Country music is what I know, it's what I've always done, and I've never thought about doin' anything else. I'm grateful to finally be putting it out into the world. Homage isn't paid on accident, so if it reminds the listener of a sound that's familiar to them, of the music they listened to growing up, then I reckon we've done our job. These songs are real to the last five or so years of my life, so I hope people hear the stories we're sharing and can relate."
A genuine country article with neon coursing through his veins, Worthington penned all but one of the 13-song offering, bringing an honest representation of the last several years of his life to his storied lyrics. Enlisting songwriting mainstays Roger Springer, Robert Arthur, Jessi Alexander, David Lee Murphy, and Jeff Hyde as well as go-to collaborators Monty Homes, Nick Walsh, and Wyatt McCubbin, a honkytonk collection full of rowdy good-time hitters and heartbreak howlers was born, beckoning listeners straight to the dance floor.
"I really have to give a lot of credit to all the writers I had the privilege of working with on these songs," shares Worthington. "I am blessed to get to work with, in my opinion, the best of the business. I don't take that for granted."
Worthington released two of the twanging new tracks in March, immediately met with a strong reassurance that country music is craving a throwback. Leading the way with emotion-filled ballad "State You Left Me In," Billboard noted that "while the influence of staunch country traditionalists such as George Jones and Tracy Lawrence are apparent, he manages to bring his own nuances to wringing the anguish out of every note." Pairing it up-tempo anthem "Next New Thing," for a balanced introduction, "if this one doesn't make you imagine yourself line dancin' or boot scootin,' then your country music quality meter is broken" (Whiskey Riff).
Now, the rest of the 11 songs have arrived for a beer joint-ready playlist, among them slow dancing "She Ain't You," which "is the epitome of a retro love song, with its dreamy, pedal steel-driven melody that would slot seamlessly into the repertoires of the all-time greats" (Holler). Joining Worthington for a shot of classic vocal balladry is labelmate ERNEST on "Pop Goes The Whiskey," among other standout up-tempos like "Honky Tonk Crowd" and "Night Time Is My Time" where Worthington wrings all the energy (and then some) out of his electric honky-tonk roots.
"I just can't believe the support we've received from the first two," Worthington reflects. "It means so much to me that people are hearin' the kind of music we make and are enjoying it. As long as someone'll listen, I'm goin' to keep doin' what we do best and make country music for the rest of my life."
EARLY ACCLAIM FOR JAKE WORTHINGTON
"Major label album of the year? Almost certainly, but I'd like to think it is so much more than that. Hopefully Jake Worthington is about to usher in a whole new era of real country music coming back around…" – Country Music People
"Full of relatable ballads, like 'State You Left Me In,' and songs that'll have you two-stepping on the dancefloor, such as 'Honky Tonk Crowd' and 'Next New Thing,' there's something for everyone or whatever mood you're in." – Cowboy Lifestyle Network
"Jake Worthington is an artist who is garnering a lot of attention in country music for all the right reasons." – Entertainment Focus
"Unapologetically country, Jake Worthington's full-length debut is packed with honky-tonk dancefloor fillers, heartbreak anthems and, you guessed it, a shot or two of whiskey for good measure." – Holler.
"If traditional Texas twang is your thing (and it should be), Jake Worthington will soon have you two-steppin' to his honky-tonk stylings." – Outsider
"He's almost a dead-ringer for Mark Chesnutt, with the same full-throated, weathered, rich tone that plays especially well to this sound." – The Musical Divide
"Jake Worthington is the epitome of country boy. Everything from his traditional vocals, musical arrangements, and that signature twang." – Whiskey Riff
Listen to Jake Worthington here.
Jake Worthington Tracklist:
State You Left Me In (Jake Worthington, Timothy Baker, Roger Springer)
Single At The Same Time (Jake Worthington, Robert Arthur, Kim Penz, Jacob Boyd Weinschenk)
Without You (Jake Worthington, Jody Booth, Roger Springer)
Pop Goes The Whiskey (feat. ERNEST) (Rocky Block, Seth Ennis, Kyle Fishman, Ernest Keith Smith)
Ain't Got You To Hold (Jake Worthington, Joe Denim, Roger Springer)
She Ain't You (Jake Worthington, Jake Doucet, Roger Springer)
Next New Thing (Jake Worthington, Steve Leslie, Roger Springer)
Honky Tonk Crowd (Jake Worthington, Clint Daniels, Jeff Hyde, Roger Springer)
I Ain't Goin Anywhere (Jake Worthington, Wyatt McCubbin, Roger Springer)
Night Time Is My Time (Jake Worthington, Monty Holmes, Roger Springer)
Only One Way To Find Out (Jake Worthington, Jessi Alexander, Dave Cohen, David Lee Murphy)
Heaven Can't Be Found (Jake Worthington, Will Jones, Kim Penz, Roger Springer)
Closing Time (Jake Worthington, Nick Walsh)
All songs Produced by Joey Moi
Mixed by Joey Moi and Josh Ditty