WORTHINGTON STEPS INTO THE CIRCLE FOR THE FIRST TIME JULY 21
ADDITIONAL PERFORMANCES THIS WEEK AT CMA FEST'S CHEVY VIBES STAGE (6/9) AND WHISKEY JAM (6/10)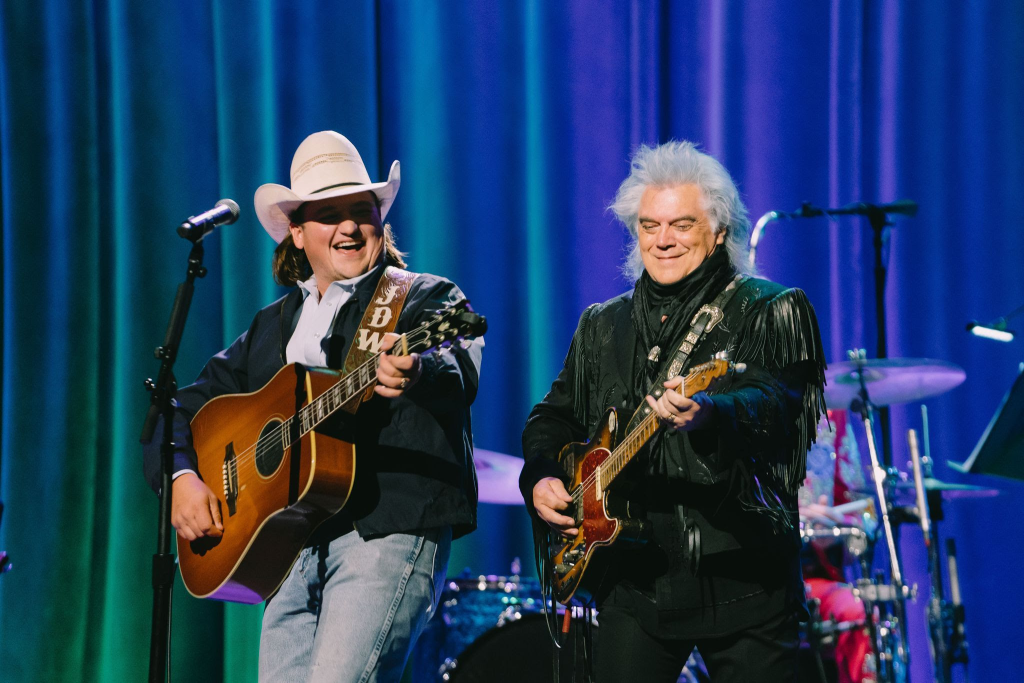 Jake Worthington Performs with Marty Stuart at Marty Stuart's Late Night Jam (6/7) | Image by Brayln Kelly | Download Here
NASHVILLE, TENN. – Taking the stage at The Ryman Auditorium for Marty Stuart's Late Night Jam last night, country's rising cowboy Jake Worthington joined icon Marty Stuart for a performance of their unreleased co-write "I'm The One," and Worthington's anguish filled ballad "State You Left Me In." Beaming as he stood beside one of his heroes, the night became one Worthington will not soon forget, as Stuart surprised him with the milestone invitation to make his Grand Ole Opry debut on July 21.
"This boy has country music in his heart," Stuart beamed as he brought Worthington onto the stage. "If I was betting on anybody in country music, I'd put all my chips on this guy. I love him and I believe in him, he's the real deal."
Speechless as Stuart shared the news of his Opry debut, Worthington reflected later in the evening teary eyed, "Man, I ain't got no words. At the drop of a hat we will be there. It means the world that Marty Stuart shared this with me, his music has been a heavy influence on mine. He's the king of cool in country music. I've always believed in the power of a song, but I've never seen it playin' out like this for me. It's everything I've ever dreamed of."
Kicking off the week, Worthington made his Ryman Auditorium debut Tuesday night (6/6) at Craig Wiseman's Stars for Second Harvest, earning a roaring standing ovation after his acoustic set. Now with two monumental moments under his belt, Worthington gears up for more can't miss live shows this week at Nashville's CMA Fest, bringing his fresh take on traditional country music to the Chevy Vibes Stage on Friday (6/9) at 10:15 a.m. and Whiskey Jam on Saturday (6/10) at 2:00 p.m.
Not missing a beat, Worthington has been steadily bringing two-step ditties to dance halls nationwide, featuring a set list chock-full of music from his acclaimed self-titled debut album. The 13-song track list reminiscent of the genre's classic roots infuses fresh blood into country's still beating heart, earning him early praise from fans and critics alike.
ACCLAIM FOR JAKE WORTHINGTON
"…will resonate with swathes of country fans who have felt forgotten for the last couple of decades"
– Country Music People
"Full of relatable ballads, like 'State You Left Me In,' and songs that'll have you two-stepping on the dance floor, such as 'Honky Tonk Crowd' and 'Next New Thing,' there's something for everyone or whatever mood you're in." – Cowboy Lifestyle Network
"'Jake Worthington' is a debut that could well go down in Country music history." – Entertainment Focus
"If you had to explain what country music was to someone who didn't know, then the easiest thing to do would be to play them any one of the 13 songs off Jake Worthington's self-titled debut album." – Holler.
"If traditional Texas twang is your thing (and it should be), Jake Worthington will soon have you two-steppin' to his honky-tonk stylings." – Outsider
"If you want to hear true traditional country in its most pure form in 2023, listen to Jake Worthington."
– Saving Country Music
"debut album of gorgeous beer-joint purism." – Texas Monthly
" a top contender for Album of the Year in his impressive honky-tonkin' debut" – Whiskey Riff
Later this year, Worthington will join labelmate ERNEST as direct support for his This Fire Tour, tacks on dates supporting Tracy Lawrence, Casey Donahew, and Lainey Wilson, as well as performances at various fairs and festivals including Country Fest, Humboldt County Fair, Warren County Fair, TidalWave Music Festival, Gordy's Hwy 30 Music Fest – Texas Edition, and more.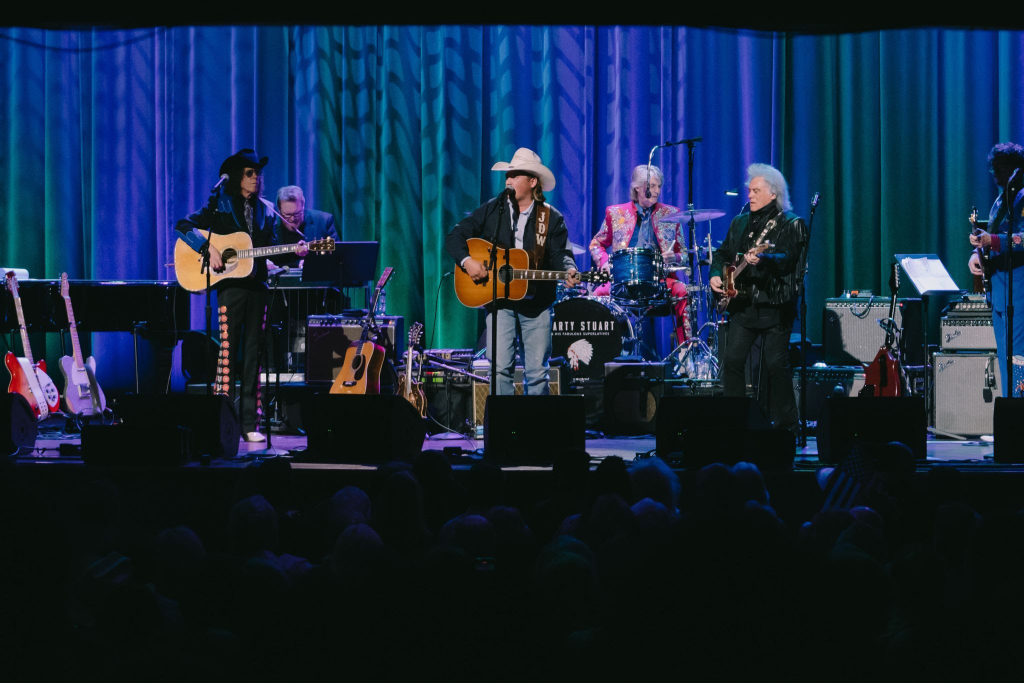 Jake Worthington Performs with Marty Stuart at Marty Stuart's Late Night Jam (6/7) | Image by Brayln Kelly | Download Here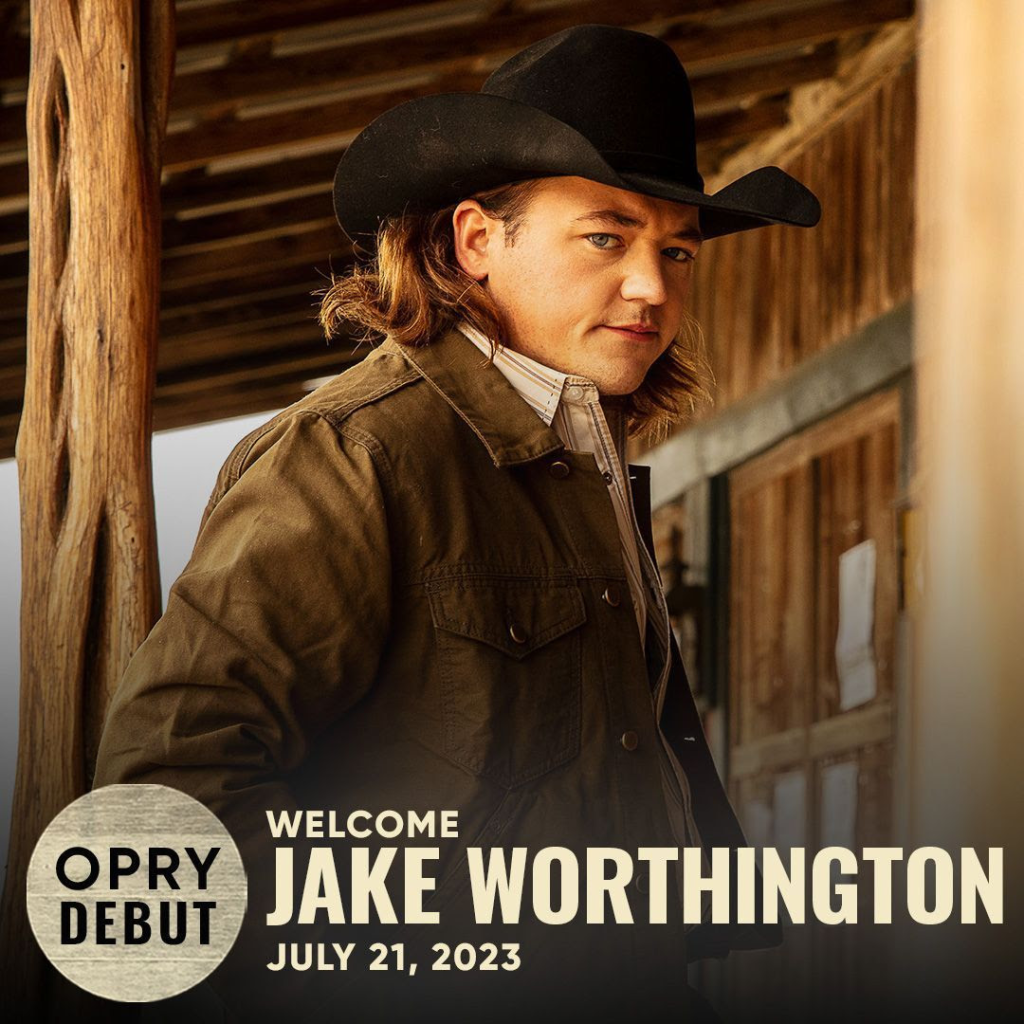 Jake Worthington Debuts at the Grand Ole Opry July 21 | Courtesy of Grand Ole Opry | Download Here